Winter Garden Attractions
In addition to a quiet walk or an engaging bike ride down the West Orange Trail, the historic town of Winter Garden holds many hidden treasures wrapped in its small town Florida charm. For a true taste of downtown Winter Garden, Peach Sky Productions offers several food tours that combine sampling the cuisine of Winter Garden's unique eateries with a historical walking tour of downtown.
In addition to The Chef's Table, Thai Blossom, and Scoops Old Fashioned Ice Cream Store located within the Edgewater, there are many local eateries that are located conveniently within walking distance.
The Deli Downtown offers sandwiches, salads, toasts, cheese and charcuterie in a casual setting.  
Winter Garden Pizza Company features casual Italian dining, pizza and sandwiches.  
The Attic Door is a wine bar where sofa snacks are served in a cozy atmosphere featuring live music.  
The MoonCricket Grille serves casual cuisine and offers a full bar within the setting of an antique grocery.  
Harry and Larry's Bar-B-Que offers mouth watering smoked BBQ ribs, turkey, brisket and BBQ sandwiches served in a unique small town atmosphere.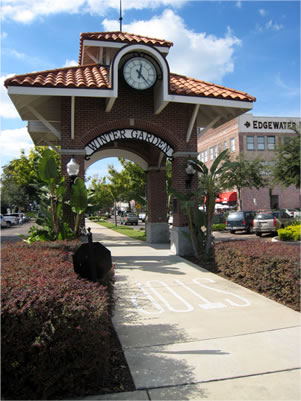 Savoree serves wraps, sandwiches, salads, and smoothies made with fresh local ingredients.
Market to Table creates modern American cuisine with classical influences. A seasonal dinner menu offers a mix of traditional, yet elevated, modern American dishes.
Urban Flats serves wine, flatbreads, salads & American entrees and offers a full bar.
Axum Coffee serves coffee, tea, panini & desserts in a relaxed setting and donates all profits to charitable causes.
Pilars Martini Bar offers mixed drinks and live music amid an upscale atmosphere of 30's deco decor.  
Rosalie Le French Cafe serves fresh-made pastries and croissants and imported coffees and teas.  
Melts on Main Street serves meals like grilled cheese and tomato bisque in the atmosphere of a 1970's living room.  
The Plant Street Market is the home of the Crooked Can Brewery as wells as being an Artisan Market housing 20 vendors featuring natural, organic food and handmade products inside one building.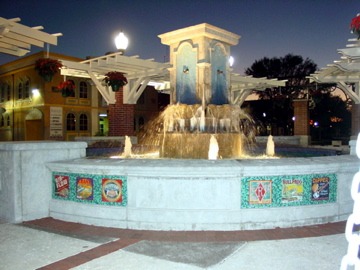 Winter Garden is also the home of top quality entertainment.  

The Garden Theatre is a historically restored venue that recreates the theater-going experience of its original patrons when their doors first opened in 1935.  It is a great place to see professional off-Broadway plays, live performances & concerts, and classic films.  
The new History Research and Education Center is located next to the Heritage Museum, located in the 1918  Atlantic  Coast  Line  train  depot.  The museum focuses on the history and culture of the area, with exhibits including local citrus labels, Native American artifacts, railroad memorabilia and historic photographs. 
The Central Florida Railroad Museum is located in a former Tavares and Gulf depot built in 1913. The museum contains exhibits depicting Central Florida's railroading history, including a large collection of dining car china. If you are looking for a day of relaxation, you are also a one minute walk away from the Winter Garden Divine Wellsness Day Spa where they offer massages, facials, manicures, and pedicures as well as an Herbal Boutique, Aromatherapy Bar. On that same block is Philanthropy, the recognized leader in cause-driven retailing, curating and designing apparel, home and gift products with purpose, passion, style and quality.
The Winter Garden Fencing Academy, the area's only school of Olympic fencing instruction. The school is open to the public and regularly holds fencing tournaments.

Plant Street also has  a jewelry shop, a fitness apparel shop, and a flower and gift shop, as well as many other unique shops and eateries.

Just a few short miles away you will find Winter Garden's premier golf course, Orange County National.  Plus, wine enthusiasts don't want to miss a trip to the Lakeridge Winery in nearby Clermont, Florida.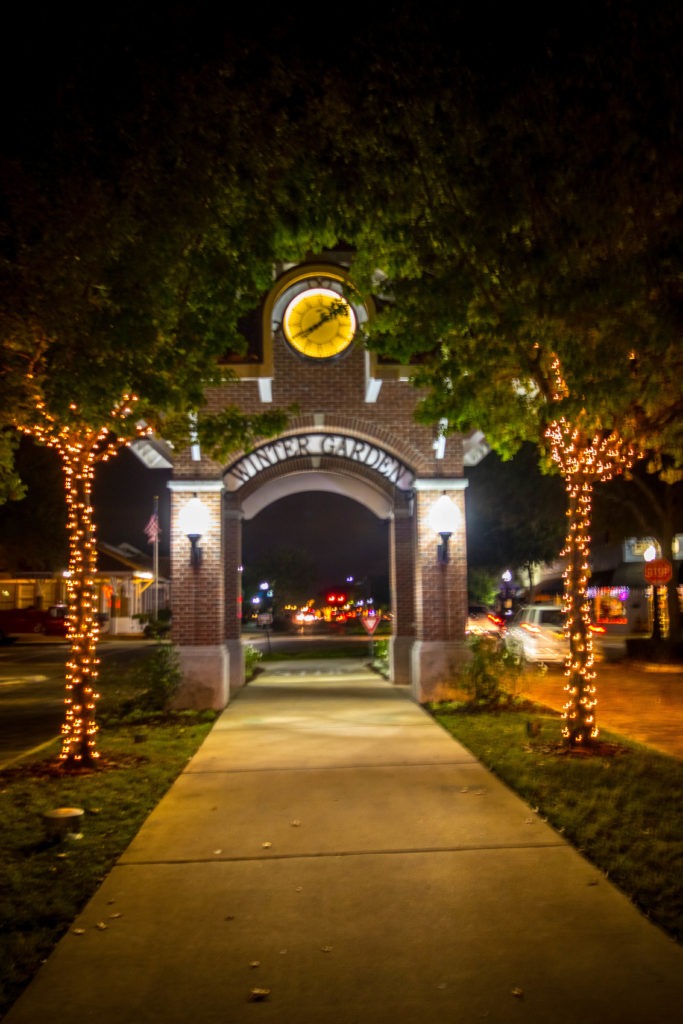 99 W. Plant Street, Winter Garden, FL 34787
 (407) 654-6921
---